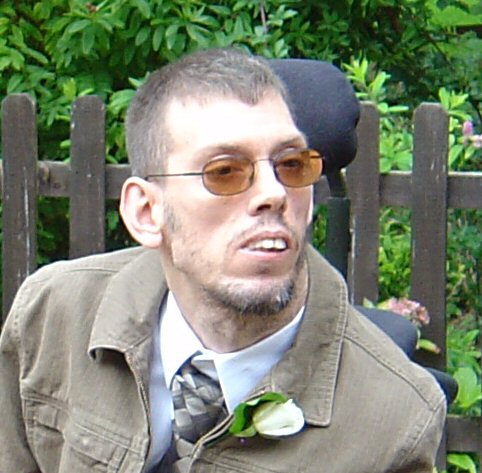 INTRODUCTION and WELCOME !
Welcome to my own little plot of cyber-land on the Internet. I'm glad you dropped by. Let me introduce myself, my name is Steve Smith. I live in Nottingham, which is a city in the Midlands in the United Kingdom. I was born in 1967, so you can do the maths and work out my age.

Some people in my position would try to hide their disability in order to gain immediate acceptance, but for me that would go against all my principals of honesty and trustworthiness. I have Cerebral Palsy, which basically means that I use a powered wheelchair to get around, have poor coordination of all my limbs, and a speech impairment. Outwardly, my body may not be the 'norm', but inwardly, I have the same needs, hopes, desires, and fears as everyone else may have. I am very independent, but I need some assistance with every day tasks.

The main aim of producing this website is to demonstrate that disabled people are really not that different to anybody else. In parallel to this, I guess, ultimately, I am still looking for that special soul mate and companion, someone to share life's highs and lows with. I am an honest person and I just want new female friends, if things develop further then great, if they do not then that is fine too. My qualities are; I am caring, dependable, a good listener, honest, intelligent, romantic at heart, good at thinking things through, and I have a good sense of humour.

I enjoy going to the cinema and theatre. I like films that make you think or show the ironies in life. I keep fish and find them relaxing to watch. I like to travel to experience different parts of the world when I can get the practical support to do so. I have been to Florida, the Caribbean, Spain, Portugal, Turkey, Holland, and many of the Greek islands.

My Christian faith is very important to me. Jesus is my rock and gives purpose to my life. My favourite Bible verse is Romans 8:38-39 because it so complete, certain, and reassuring. ''For I am convinced that neither death nor life, neither angels nor demons, neither the present nor the future, nor any powers, neither height nor depth, nor anything else in all creation, will be able to separate us from the love of God that is in Christ Jesus our Lord.''

Please feel free to wonder around my website. If you have any questions, or would just like to drop me a line, then I would love to hear from you. Please do not be afraid to ask me anything you like, if you wish to contact me, and I promise to give you a honest answer.

Thank you for reading this and I hope to hear from you soon,

To contact me just click...




Yours sincerely,
Steve Smith.
Website last updated: 24 July 2013
© Copyright 2013 Steve Smith